Article posted by Will Suton
​
Mostly known for the illustrious invention of the global phenomenon — the World Wide Web — Tim Berners-Lee is someone we have all heard of. But do we really know who he is?
​
The World Wide Web is still to this day, one of the most revolutionary discoveries ever known to mankind. But, on reflection, we've got a lot more to thank for easy access to the internet than just one prodigious intellect. As it turns out, the result of Tim's brainchild can also be attributed to his parents, his reading hobbies and his deep love for train-spotting!

Sir Tim Berners-Lee was born on the 8th of June, 1955 to parents Mary Lee-Woods and Conway Berners-Lee in London. Little did they know that their son was set to change the shape of the entire planet 33 years later. It was no surprise that his love for all things computing and science shone through at an early age. As well as having an obsession with science-fiction in his youth, his parents were keen mathematicians who worked on the world's original commercially built computer; also known as the Ferranti Mark – a system which would look very strange and foreign for all of us 21st century tech-heads. This is something that undoubtedly contributed to Tim's passion for computers, leading to his fascination of engineering, electronics and physics.
​

As it turns out, the result of Tim's brainchild can also be attributed to his parents, his reading hobbies and his deep love for train-spotting
However, it seems that it was quite the contrary. Tim was actually an avid train-spotter as a child, and claims that he learnt all about electronics from tinkering around with his very own model railway. He is also one of four siblings; so it's safe to assume that childhood life was far from boring for the Berners-Lee family.

As most of us realise at some point, it's all very well and good having a hobby; but how do we turn an interest into a professional occupation? It's a lot easier said than done, and it's rare that accomplishment is reached without some serious hard work and graft. Tim Berners-Lee was no exception to this.

Everyone has a different success story. Bill Gates invented Microsoft and is now – statistically - the richest man on Earth. Lord Alan Sugar quit school at 16, sold car antennas out the back of a van and has now built up some of the most booming businesses the world has to offer. Mark Zuckerberg made a social media site for his Harvard pals and wound up with a net worth of 53.8 billion dollars. Where there's room for something in the technology, business and IT industry, there is certainly money.

But money was never something that crossed the incredible mind of Berners-Lee. He genuinely credits his inventor status to random chance, claiming that he "happened to be in the right place at the right time" when the World Wide Web was created. Most people don't buy this. By all accounts, Tim is an extremely humble and public-spirited man; and his current net worth of $50 million might come as a little bit of a surprise to some. Why? Because someone of his stature and intelligence with so much credit to his name would usually be worth much more. Bill Gates is worth a whopping 84 billion dollars, and Steve Jobs left his family a healthy sum of just under $20 billion when he passed away. So, compared to this, doesn't $50 million seem a little lacklustre? Not to us of course. To us it's the amount of money that would mean work never had to be done again. It's enough money to live forever without lifting a finger, and Tim recognises this. Many refer to him as the 'unsung hero of the information age' which suits him down to the ground. A lot of people would be shocked at how many others have never actually heard his name said out loud.

When Berners-Lee featured in the 2012 Summer Olympics opening ceremony in London, he received almighty cheers and support. But it was the first time the majority of us had ever seen the face of the man behind the internet. Something that we use every day of our lives now.
"The man who invented the most important creation of our era - still drives around in a 13-year-old Volkswagen Rabbit. Why? Because he wants to."
But he is someone who has never craved the spotlight, never made himself known in the public eye and someone who prefers to keep himself to himself. A classic example of this would be that this man - who is worth $50 million and invented the most important creation of our era - still drives around in a 13-year-old Volkswagen Rabbit. Why? Because he wants to.

He's a far cry from your typical celebrity. A close colleague of his, Rohit Khare, once famously said, "He can be the life of the party, without making the party about him." Something that we all wish certain friends of ours were like.

It all really started when Tim graduated with a first-class degree in physics from The Queens College at Oxford University, and began working as an engineer at a telecommunications company in Dorset. He then moved on to working as an independent contractor at CERN in June, 1980, also known as The European Organization for Nuclear Research. This research organisation operates the largest particle physics laboratory in the world, and it resides on the border of France and Switzerland in Geneva.

He then returned to Dorset for a three-year stint of running the technical side of John Poole's Image Computer Systems LTD, before going back to work with CERN in 1984. By 1989, CERN was the largest internet node in Europe; and was a company that inspired Tim's initial ideas about the invention of the World Wide Web. When previously asked how the creation first came to mind, he revealed: "I just had to take the hypertext idea and connect it to the Transmission Control Protocol and domain system ideas; and ta-da! We had the World Wide Web" – so no wonder he had a reputation for being somewhat modest.

The next step was to write his proposal; which he did, in 1989 and redistributed in 1990. It was then accepted by his manager, Mike Sendall who helped him to get it off the ground – so on behalf of the entire planet, thanks, Mike!

What followed? The first design of the first web browser in history – a prototype which was made in the space of a few months. The simplistic, yet effective title of 'World Wide Web' was another brainwave by Berners-Lee; but he was worried that French and French-Swiss folk would have trouble pronouncing it. However, he stuck to his guns and kept the name; which —over 30 years later — seemed to work out quite well. Or so we've heard.
​
​
The internet went live for the very first time on 6th August, 1991. The first web address to be typed into the system was http://info.cern.ch/– not as catchy as some admittedly, but still a momentous occasion in history. It was a website that taught users all about the wonders of hypertext, technical details for making their own pages and how to search efficiently on the web. Something that the majority of today's Facebook account holders wouldn't seek out, but that is truly where it all started.

The World Wide Web was notorious from the get-go. In an official list of '80 cultural moments that shaped the world' the World Wide Web ranked number one. The list description stated: "The internet has changed the shape of modern life forever. We can now connect with each other instantly, all over the world." Gone were the days of sending letters to your relatives in the mail. It was time to say goodbye to telegrams, pigeon post and even - for some - the telephone. The internet was now the top dog, and the notion of being able to make contact with the entire world in so many ways was a very special and tremendous achievement.

But Tim Berners-Lee's road to success did not end there. As we've already clarified; everyone has a different success story, but The World Wide Web was not necessarily the epitome of his. In 1994, Tim founded the infamous World Wide Web Consortium at the Massachusetts Institute of Technology – more commonly known amongst Americans as MIT.

MIT is one of the most popular and most technically advanced schools in the entire world. IT and technology students practically fight each other for spots every year to attend it. But there is something else that's slightly different about MIT. Tim was determined to make it more open and free for students to get access to great technology. He is a firm believer that the talent in these fields should be admired, and education in these sectors should be more obtainable.

The World Wide Web Consortium comprised various companies that were willing to create standards and recommendations to improve the quality of the Web. Berners-Lee made his idea available freely, with no patent and no royalties due. The World Wide Web Consortium decided that its standards should be based on royalty-free technology, so that they easily could be adopted by anyone.
​
"Tim Berners-Lee, more than anyone else, has fought to keep the World Wide Web open, non-proprietary and free."
Diving back into his home roots in 2001, Berners-Lee then became a patron of the East Dorset Heritage Trust. It is an environmental education charity, founded in 1987, which aims to stimulate interest in the landscape, wildlife and archaeology of the area, as well as developing new approaches to environmental education. There is no doubt that Tim's ongoing support for this charity was a huge ticket for their own success story.

In 2004, he accepted a chair at the school of Electronics and Computer Science at the University of Southampton in Hampshire, assisting students with their own success stories.

It wasn't just education that got on board with Tim's genius status though; because in 2009, the Prime Minister of the UK – Gordon Brown – announced that Berners-Lee would start working with the British Government to help make data more accessible and open on the internet. This was a huge opportunity for a lot of people. The British public could benefit from this, as well as the Government and Tim himself.

At the time of his involvement, he stated: "Greater openness, accountability and transparency in the Government will give people greater choices and make it easier for individuals to get more directly involved in issues that matter to them" – which paved the way for the general public to have their say on political decisions, find out more information about the management of the country and get immersed in the goings-on of the British Government. Having the Prime Minister approve the freedom and distribution of Government data gave the public the chance to be heard, and have more faith in the system. Another success story courtesy of Sir Tim. This planted a big seed for him, because in 2012, he became the President of the Open Data Institute.

The World Wide Web Foundation was also a milestone in Tim's life, intended to advance the open Web as a public good, and a basic right. It aims to build a future in which the Web empowers everyone, everywhere, to take part in building a fairer world. It's an organisation that is close to the heart of its workers. Their website states: "We're working to expand access to the web for the 60% of the planet who are still not connected. We're fighting to ensure that everyone's voices can be heard online, and that the web serves people, not governments or corporations. We're innovating to make knowledge and data freely accessible to all online."

It's clear to anyone that part of Berners-Lee's mantra, is making the internet a fair and open system for everybody. This proved even more true when he joined the board of the Alliance for Affordable Internet in 2013. This meant that he was leading the coalition of public and private organisations, including Google, Facebook, Intel, and Microsoft.

The Alliance seeks to make Internet more affordable, so that access is broadened in the developing world where only 31% of people are online. Tim works with those aiming to decrease internet prices, so that they fall below the UN Broadband Commission's worldwide target of 5% of monthly income.

His name featured in Times Magazine in 1999, in the list of the 100 Most Important People of the 20th Century. The entry stated: "He wove the World Wide Web and created a mass medium for the 21st century. The World Wide Web is Berners-Lee's alone. He designed it. He loosed it on the world. And he, more than anyone else, has fought to keep it open, non-proprietary and free." What a man.
​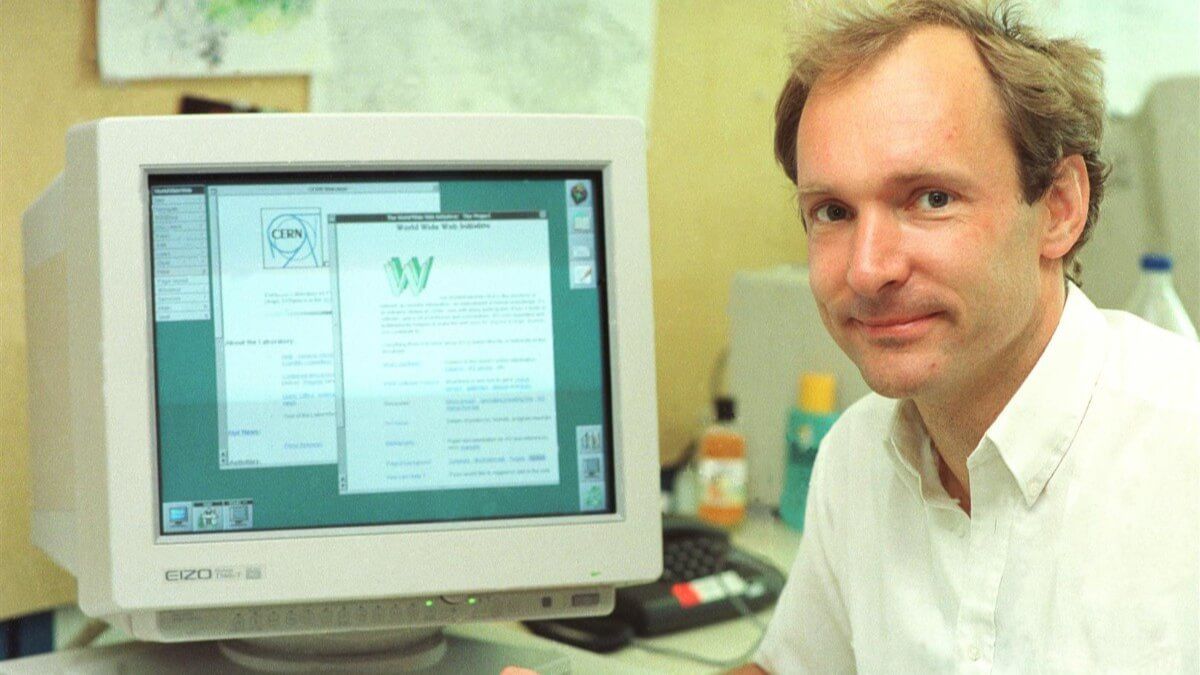 Image Credit: Webfoundation.org

This wasn't the last of Times Magazine's admiration for Berners-Lee. In 2009, they credited him with a huge profile article, commending his life's work. In the interview, Tim admitted that the two slashes used in every web address are completely unnecessary. He said: "It just seemed like a good idea at the time."

In 2016, Tim went back to his old university, Oxford, as a legendary alumnus, and joined the Department of Computer Science as a professor.

This success story of course, did not go unnoticed. In 2004, he was knighted by Queen Elizabeth; officially making him a 'Sir' – an honour that not many are blessed with.

In 2007, he received an Order of Merit; something which is even more exclusive than a knighthood, as Tim is one of only 24 living members to be given it. In 2001, he was elected as a fellow of the Royal Society, and in 2009, he was elected as a foreign associate of the US National Academy of Sciences.

In terms of his home life, Berners-Lee married Nancy Carlson in 1999 and had two children, Ben and Alice. After their divorce in 2011, he began a relationship with the head director of his World Wide Web Foundation, Rosemary Leith. The couple then married in St James' Palace in London in 2014.Berners-Lee was raised as Anglican, but turned away from religion at an early age because he didn't believe in specific areas of the faith. After becoming a parent, Tim converted into a Unitarian Universalist – a religion that suits him entirely. He wanted to reiterate the importance of spirituality to his children, and is still an active member of the church today.

And there you have it. Tim's success story in a nutshell. A man who achieved a lot of amazing things with just one simple idea. Tim Berners-Lee once stated: "I hope my achievements can be a lesson to all dreamers. Dreams can come true."